DiY SK8 HOME
BUILD YOUR OWN SKATEPARK
In 2003, a group of skateboarders who had been involved in building their own Youth Club decided that they needed a good skatepark, to save travelling to local large towns. They organised a petition to the Parish Council,who with two other Parish Councils and the Borough Council obtained funding, and built the park in the picture. This size park would have cost £120K to £140K by going down the normal route: but by begging and scrounging help, this park was built for £40K. It has passed all its Structural Engineering tests,Health & Safety Inspections, PAS35 and BS EN 1176, and has now been open for six years, with not a SINGLE INCIDENT OF VANDALISM. It is also very noticeable that because Graffiti is allowed, even encouraged at the skatepark, the incidence of vandal graffiti has all but disappeared in the villages.
2021 - 16 Years Old....
The skatepark was opened in September 2005. In this picture by Lewis Durham from The Malling Chronicle, Joe and Josh are trying out the resurfaced ramps (click the pic for full article)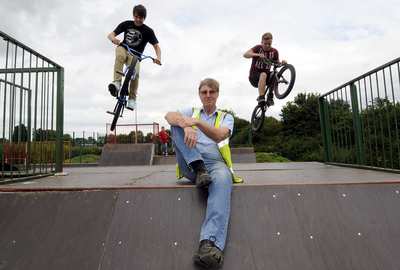 (c) 2012 Malling Chronicle & Lewis Durham
IF A JOB'S WORTH DOING,
DO IT YOURSELF.
VISITOR COUNTER





Whilst not every village will have the people and facilities that we had here, we wanted to show what can be done if a community sets it mind to it. Feel free to nick ideas, designs, even pictures. www.dajoint.freeservers.com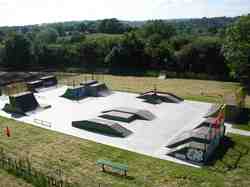 Above : The Reality, --- Below : The Plan
The Plan below was Version 10, a collection of sketches on scraps of paper, that was initially built into a model using blocks of wood and card, and "fingerskated" to check it worked. We then drew this plan on Microsoft Word!
Amazing what you can do using a bit of patience!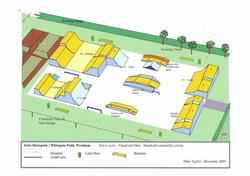 YOU ARE VISITOR NUMBER:...
(c) Mike Taylor all pictures unless otherwise stated : feel free to use any images, but if you earn I'd like a share !